Bleachers
Mike Brown Grandstands offers a wide variety of seating options ranging from low cost mobile bleachers (seating 200+) to large custom bleachers seating thousands.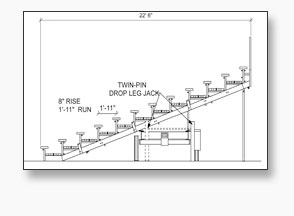 Our bleacher units have been used as spectator seating for parades, football, baseball, soccer, basketball, graduations, golf tournaments, and audience seating for TV shows & movies.
We offer a wide range of options including standard rise units, high pitch rise for improved sight lines, elevated walkways & platforms, as well as ADA seating and ramps.
Whatever your seating needs, Mike Brown Grandstands has a bleacher to fit.

Or call 1-800-266-2659